0 Västerbotten Diaspora around the world
Our in-person family gatherings
Ireland's President Higgins family message
Our TEDx talk about family gatherings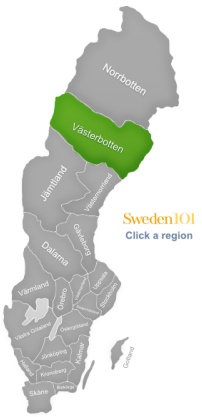 What is the region's historical importance?
Up until the early 19th century, the region also included a small part of Finland, but when the borders of Sweden were changed, the region became a lot smaller, as Västerbotten also lost the part of the region that is now known as Norrbotten.
What is the region known for?
Västerbotten is very famous for the cheese that comes from this region. In Sweden, you will hardly ever find a crayfish party in summer during which there is a lack of Västerbotten cheese. It is a hard cheese with little holes in it, and it is also used to make a lovely Västerbotten cheese pie. If you are in Sweden, then you should try this cheese. It will be easy to find, especially when you go to the Västerbotten region itself! There is also a legend about a maid that first came up with this cheese. Apparently she was distracted while she was stirring the curd that was meant for the cheese, and the distractions led to the cheese turning out different than usual.
The region is also known to be not very populated, and the lowest temperature in Sweden was measured here (so yes, it can get very cold every now and then). The small population can be an advantage though because in this part of Sweden, you can find a lot of unspoilt nature, lovely, not very crowded camping grounds, and locals who are not sick of tourists yet.
What are some places you need to visit in Västerbotten?
Burträsk
This is only a very little village, but the people there are sure that this is the place where the famous Västerbotten cheese was first produced. Go and talk to the locals to listen to their version of the Västerbotten cheese legend. The village itself is not very different from other Swedish villages, but if you haven't visited one yet, then you might as well visit one with a funny legend about cheese.
Vilhelmina
Vilhelmina, a small village named after Queen Frederica Dorothea Wilhelmina of Sweden, is a good place to experience a more remote area of Sweden. This village is also a good place to learn more about the Sami people. If you happen to go there, when the festival Hembygdsdagarna Vilhelmina takes place, then you also have the chance to watch and take part in a very traditional Swedish festival. Something special about it is that each year a couple marries during the festival and leads the parade. Everyone who wants to can attend the wedding.
There are some good camping grounds and other accommodation options in and around Vilhelmina. It is a perfect location to explore a really unspoilt part of Europe, and you'll be able to see some interesting wildlife. Beware though: it can become very cold in that part of Sweden, so you need to be well prepared, especially if you plan on spending the night in a tent.
Kittelfjäll
If you enjoy skiing, then the area around Kittelfjäll is recommended for the best off-piste skiing in Sweden.
The roads of Västerbotten
Västerbotten has quite a special network of roads. Depending on your interest, you can choose one of the roads, and it will take you to places that will interest you. All of those roads are well marked, very safe, and also popular with national and international visitors alike. Some examples are:
The Silver Road and the Gold Road: Those two roads will take you to various places that were important in Sweden's history with the mining of Gold or Silver. You will learn a lot more about those precious metals, and can also visit some mines.
The Seven Rivers Art Road (Konstvägen Sju Älvar): If you love art, then this road is ideal for you. It's 300 kilometers long and takes you from one piece of art or museum to the other.
The Wilderness Road (Vildmarksvägen): Take this road if you would like to see untouched natural landscapes and learn more about the Sami people.
The Blue Road (Blå vägen): This road actually takes you all the way from the Gulf of Bothnia into Norway, and it is a very beautiful stretch of road with views that make you want to stop all the time.
Umeå
Umeå is the capital of this region, and a good starting point for your exploration of this wonderful Swedish region. In 2014, the city was elected as the European Capital of Culture, so you can expect that you will not be bored when you visit. There are plenty of students around, so you'll have quite a lively vibe in some of the more popular areas of the city. You can visit museums, art galleries, explore the city center, or just relax in one of the nice cafes. In Umeå, you can also see one of the largest private collections of guitars in a museum solely dedicated to guitars!