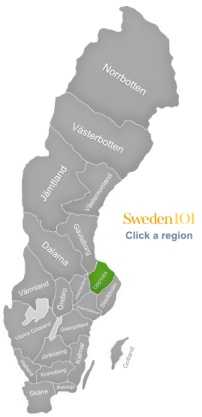 What is the region's historical importance?
Uppsala was the region in which the Church of Sweden was and still is very powerful. The city of Uppsala, and its huge cathedral were vital in the replacement of the old Norse gods and goddesses.
What is the region known for?
The region's capital Uppsala is the seat for the archbishop of the Church of Sweden, and has been the ecclesiastical center of the country for centuries.
Scandinavia's largest cathedral is located in Uppsala, and the capital is often referred to as the city of knowledge and inspiration because of the university, the many historical places and artefacts, and the many opportunities one has to learn a variety of things while in the city/region.
What are some places you need to visit in Uppsala?
Uppsala
This city is the capital (and obviously name-sake) of the region Uppsala, and the fourth largest city in Sweden. This means that it has a lot to offer to you if you decided to spend some time there – but the city can also just be used as a convenient gateway to the rest of the region.
The Uppsala Cathedral is not only one of the buildings you can't miss (because it's so big and can be seen from many places in the city), it is also the biggest cathedral in all of Scandinavia. Many Swedish royals were buried in the Cathedral in the past. Entry in this cathedral is free unless you would also like to visit the very interesting exhibition. The exhibition is recommended if you would like to learn even more about the seat of the Swedish Church.
For a less religious experience, you can head to the castle of Uppsala, which is just as rich in history as the Cathedral – just in a slightly different way. The Vasa dynasty built this huge castle in the 16th century, and some of the halls are today used as a local art museum – it is an intriguing combination of old and new.
In addition to these two huge visitor attractions, there are also burials mounds, lovely gardens and parks (like the botanical garden at the university), museums (including a living museum with old Swedish houses), and old churches to be discovered.
Sigtuna
Sigtuna is Sweden's oldest city, and a must-visit if you are interested in Sweden's history, heritage, and culture. From Viking times to modern times, there is plenty to discover like ancient runestones, burial mounds, ruins, and a lot of history. Sigtuna can easily be visited via Stockholm.