0 Skane Diaspora around the world
Our in-person family gatherings
Ireland's President Higgins family message
Our TEDx talk about family gatherings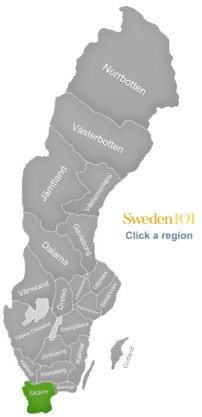 What does the name of the region mean?
Skåne is often also called Scania County in the English language. It is commonly assumed that Scania and Scandinavia have the same root, which can be translated as "danger" or "damage". It is an interesting fact that this region is one of the few that has different names in different countries. While other Swedish regions' names are usually not translated or changed when used in another country, Scania is often not immediately recognizable in other languages, e.g. "Schonen" in German.
What is the region's historical importance?
The region used to be part of Denmark in the past, and even up to today, you can still hear some Danish dialects in certain parts of the region. During the wars between Denmark and Sweden, the region has seen a lot of blood and violence, and the importance of fortifications can still be seen today.
What is the region known for?
Scania might be a small region, it only covers three percent of Sweden's area, but it is the second densest region population wise Around 13% of all Swedish people live in this region. Scania is also the most Southerly region of Sweden (which explains why it was always amongst the first to be attacked from the sea). There are around 300 castles and gardens ranging from the 12th to 19th century, and there are plenty of other historical places to explore, too, so Skåne is definitely one of the best regions to go to if you are after history, culture, and heritage.
In addition, Skåne is home to the first motorway that was built in Sweden.
What are some places you need to visit in Skåne?
Malmö
Malmö is the largest city and capital of the region. It also is the third most populous city in Sweden. There are plenty of museums, old buildings, churches, castles, gardens, and entertainment places within the city. Most likely founded in 1275, Malmö is a city with a long and interesting – but often violent – history. At some stage in history, Malmö was the most fortified city in Sweden because its location made it a valuable asset to the nation who held the position (sometimes the Swedish, sometimes the Danish). Only one of the fortresses is still there for the eyes to see. There are also quite a few immigrations from different nationalities in Malmö, which make some parts of the city rather international.
You won't be able to miss one of Malmö's most interesting buildings: The "Turning Torso". This is the highest skyscraper in the Nordic region and definitely worth looking at as the design is not your usual skyscraper design.
Another popular spot in Malmö is the Öresund Bridge – a 16 kilometers long connection between Copenhagen and Malmö. The footings of the bridge are often used as a scenic spot to watch the setting sun.
Kåseberga
Kåseberga is the place to go if you would like to see 59 upright blocks of stone that are arranged in a way that make them look like a huge ship. This immensely popular attraction is called Ales Stenar, and that it is so close to a really charming fishing village also helps!
Sofiero Castle
This castle can easily be reached from Helsingborg. A bus goes there regularly. The gardens are very popular in summer – maybe even more popular than the castle itself. Don't worry: The castle is also beautiful, after all it was voted the most beautiful castle of Europe in 2010!
Lund Cathedral
The main reason why people visit Lund is because they would like to have a look at the impressive Lund Cathedral. Every year over 700,000 people come and visit this church – and that number does not even include the 85,000 people who visit the church to take part in the services. The church has a long history, after all it has been consecrated as early as 1145. Some people say that it is the finest and most impressive cathedral in Sweden.
Sweden's best beach
Sandhammeren has a long white beach with fine sand, and people usually call it the best beach you can find in Sweden.
Wanås
This is an interesting place if you not only have an interest in history but also an interest in organic gardening, because this is a place that combines these two worlds: the castle is surrounded by an organic farm. In addition there is also an art gallery and a park with a permanent collection of over 50 different sculptures. A shop and a cafe are not missing either!
Kullaberg
If you are after a breathtaking scenery, then you need to head to the Northwest of the region to the Kullaberg Nature Reserve. You can go hiking, or even do proper climbing, watch some birds or catch some fish.