0 Gotland Diaspora around the world
Our in-person family gatherings
Ireland's President Higgins family message
Our TEDx talk about family gatherings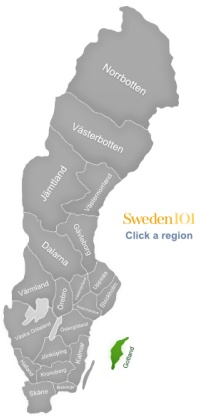 What is the region's historical importance?
Historically speaking, the island of Gotland is a very interesting place. Its location meant that it was always quite important as a center of trade with other countries. Some historians think that Gotland is the original place from where the Goths came from, but there are still some arguments about it. Gotland was once occupied by the Swedish, then the Teutonic Knights took over. Later, the Teutonic Knights sold the island to Queen Margaret in an attempt to keep the peace. The island changed owners a few times, until it finally remained under Swedish rule since 1645.
It is worth mentioning that more Arab dirhams have been found on Gotland than in the whole Muslim world together. In addition to that, the Spillings treasure has been – more or less accidentally – been found in 1999. It is the biggest Viking silver treasure that has ever been found. The treasure was made up of a variety of things, but also included many coins from foreign countries (of which most were of an Islamic nature).
What is the region known for?
Gotland is the largest island in Sweden and lies halfway between Sweden and Latvia. It is known for being the sunniest part of Sweden, and for being a place with plenty of history. No matter whether your interest lies with more recent history or history that dates back to prehistoric times: you can find something that will interest you in Gotland – and you will also most likely be able to learn something new as Gotland has an interesting mix of historic buildings and sites that were influenced by a variety of different cultures.
What are some places you need to visit in Gotland?
Gotland has turned into a quite popular destination for tourists over time. While it used to be an ideal spot for young visitors, it is now a place that attracts all sorts of tourists, and many of them arrive on a cruise ship in Visby (the capital city of Gotland and the main port for cruise ships). The cruise ship tourism has brought a different type of tourist to the island, too. Hundreds of thousands of people visit Gotland every year now, and if look at the number of permanent inhabitants on Gotland (less than 60,000), then you can imagine that you might sometimes meet more tourists than actual locals. A new pier is currently being built, because the old pier is not big enough for modern cruise ships. The new pier will most likely be finished in 2018, which means that the number of visiting tourists will increase once more. But who can blame the tourists? Gotland has plenty of sunshine, lovely landscapes, great restaurants with high quality food and drink, and also a lot of culture and history for you to explore. There is something for everybody on this island (and on the smaller islands that also count as part of the Gotland region).
Visby
Visby is usually the first stop for most people, and also often used as a base to explore the rest of the island. Around two fifths of the population of Gotland lives in this city. Gotland has dozens of medieval churches, and of course some of them are located in Visby itself, e.g. you can see the impressive ruins of St. Nicholas' Church. A visit to the Visby Cathedral is a must, and you can also have a look at the old city walls. The Almedalen Park is a lovely park to go for a short stroll or a picnic break in between sightseeing. If you manage to visit Visby in August, then you might arrive just in time for the fantastic medieval week during which you will see people dressed in medieval clothing. There are festivals, jesters, traditional crafts, medieval music, and everything else you would expect from a full-on medieval festival. It definitely is a fantastic experience.
Also visit the Gotlands Museum while you are in Visby as the museum is an excellent place to learn more about the fascinating history of this island.
Eagle Safari
There are around 50 pairs of Golden Eagles on Gotland, and they are a sight to behold. If you would like to see the majestic birds, and learn more about them, then it would be best to take part in one of the eagle safaris. The tours usually take a whole day, and you will not only see the eagles but will also see some stunning Swedish landscapes.
Tofta Viking Village
This is the place to go if you would like to learn more about life in the 10th century. The historic village/museum/experience is not just a boring educational place, you get to experience things yourselves, some examples of the activities are baking with traditional methods and the throwing of axes (but you better be careful with that). It is a wonderful place in which you cannot only learn the facts of Viking life, but also be part of it for a few hours.