0 Jämtland Diaspora around the world
Our in-person family gatherings
Ireland's President Higgins family message
Our TEDx talk about family gatherings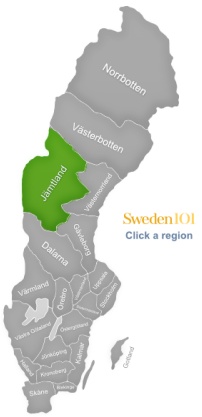 What does the name of the region mean?
The name Jämtland is based on the name of the jamts, the people who lived in that region. While there are arguments about how the people received that name, it is clear that the name can be translated as hard-working, persistent, efficient, and endurable. This might be an indicator about the quality of the people who called this region their home hundreds of years in the past. Jämtland hence is the land of the hard-working people.
What is the region's historical importance?
Jämtland shares a border with Norway, and has a rather turbulent and interesting past. Before it became part of Norway, the region was an anarchy in its truest sense. There were no laws, no kings, no queens, no rulers, no proper social structures, and most likely quite a few feuds between different villages. In 1178, the region was taken over by the Norwegians, and things changed a little because the Norwegians couldn't just have a lawless region under their rule. Between 1563 and 1677, Jämtland managed to change its allegiance 13 times (between Norway and Sweden), so you can imagine that life was not that easy for the people who had to life with the constant changes, and today you can also still see some of those influences in the villages. In 1645, Jämtland finally became a proper part of Sweden and never changed allegiance or "ownership" again.
What is the region known for?
Apart from being known for the constant changes of allegiance in the past, Jämtland is also home to some Sami (the native inhabitants of Scandinavia). While Sami are usually seen as connected to reindeers, only few Sami in Jämtland are actually reindeer herders.
Jämtland is also known for being the most densely popular brown bear habitat in Europe. Another animal that can be seen quite frequently in Jämtland is the moose. Jämtland is a very sparsely populated are of Sweden, but very popular with visitors in winter because of the great winter sports opportunities in the Swedish Highlands. The population of Jämtland is around 3.3 people per square kilometer, so it's really a good place if you need some peace and quiet. It's very easy to get away from the crowds in this Swedish regions – because there are virtually no crowds unless you are in the region's only city (there are smaller towns and settlements, but only one city). If you visit Jämtland, you will be warmly welcomed as the people of Jämtland are generally known for their friendliness, cheerfulness and hospitality.
What are some places you need to visit in Jämtland?
In Jämtland it is not so much about sights and places but about experiences. It is a region that is sometimes referred to as "the lungs of Europe" because the air there is so clean. The best thing to do in summer is just to go hiking, biking, canoeing, fishing, or wildlife watching. Chances are that you can have a wonderfully relaxing time without ever running into other people (depending on where you go – if you go to one of the main tourist places, then you shouldn't be surprised to find other tourists).
However, you might also want to take in some culture, then your best bet would be to visit Östersund. This city is actually the only city in the region, so it is quite likely that you will sooner or later end up there anyway, especially if you don't have your own car and travel to the region with public transport. The city has a lovely selection of pubs, restaurants, and cafes. You can visit a Moose park to see some moose as close up as you can possibly get to them, you can go to a few museums in which you can learn about the history and heritage of the region, and you can also just relax.
Another good place to visit is Sweden's fifth largest lake, easily accessible from Östersund: Storsjön is literally translated as great lake. And while it is not the largest of them all, it's definitely a competitor for the title of the most beautiful. Be careful though when visiting. There are reports of a monster in the lake, and reports of sightings are coming in all the time. Maybe Nessie moved from Scotland to this lake because Loch Ness became a bit too busy with tourists?