0 Halland Diaspora around the world
Our in-person family gatherings
Ireland's President Higgins family message
Our TEDx talk about family gatherings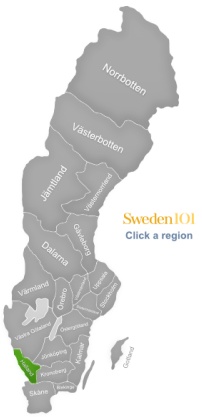 What is the region's historical importance?
Historians are not 100% sure, but it is assumed that Halland used to be under Danish dominion for quite a while during the time between 800 to 1645 AD. For 30 years after that period, Halland was temporarily signed over to Sweden but the temporary state became permanent. Halland is an area that has seen quite a few battles during the history of the country, and there are fortresses that speak of this history.
What is the region known for?
Roxette. Yes, Halland is home to the once so popular pop duo Roxette. You know, the ones who had smash hits like "Sleeping in my car", "It must have been love", and "The Look". Halland is also known for the biggest shopping center in Scandinavia and for being a paradise for campers as well as for people who would simply like to relax in a spa. In addition, Halland is a great place for people who like museums that are dedicated to art, design, and drawing.
What are some places you need to visit in Halland?
Berte Museum
The Berte Museum is a country with a touch of nostalgia as it focuses on life in the countryside as it was in the past. You can visit an old farm shop, see how an old school looked like, and learn how the farming machinery has changed over the centuries. It is quite a charming place, and will teach you a lot about the life of country people in Sweden in the past.
Fjärås Bräcka
In Fjärås Bräcka, a nature center, you can and will learn more about all things natural with a focus on the Swedish natural environment. The nature center can be visited all year around, but if you would like to also go for hikes and are not very experienced, then it is recommended that you go there during the warmer months of the year. There are some lovely tracks that start right next to Fjärås Bräcka.
The Laholm Drawing Museum
There aren't many museums that focus on drawing, and none other than the Laholm Drawing Museum can be found in the whole Nordic region, so this is actually the only place you can go to if you would like to get an insight into Swedish drawing.
Falkenberg Museum
If you love Swedish design and architecture, then the Falkenberg museum is the best place to go, as it is filled with Swedish (but also some international) design exhibitions.
Halland Regional Museum
The motto of this museum could be "discover Halland through the ages" as this truly is what happens inside this museum: you travel through time by looking at exhibitions that teach you how the region developed over thousands of years. The museum has also been closed recently to renew things and to uncover the original medieval walls that used to be hidden behind another layer. It is a very interesting place, and if you are in Halland to learn more about your connections to this region, then this is a great place to learn more about your Swedish heritage.