0 Dalarna Diaspora around the world
Our in-person family gatherings
Ireland's President Higgins family message
Our TEDx talk about family gatherings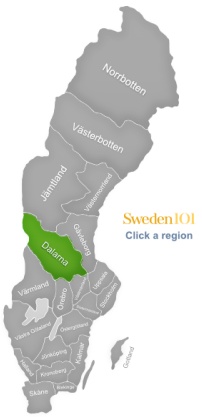 What does the name of the region mean?
Dalarna is simply translated as "the dales", i.e. the valleys, and it is quite a fitting name for the region of many valleys and thousands of lakes (over 6,300 of those lakes are over one hectare big, and if you visit Dalarna, you can be sure you are never far away from some breath-taking landscapes.
What is the region's historical importance?
Dalarna borders on to Norway (the border is in the Swedish mountains), and of course the proximity to Norway was not always such a good thing in the past as Norway and Sweden did not always get along very well. Sometimes Norway attacked Sweden, sometimes Sweden attacked Norway, and in many places in Dalarna you can still see how Norway had an influence of how this part of Sweden developed.
What is the region known for?
The region is known for being a place in which you can see all that Sweden has to offer in a quite compact area, sometimes it is also called "Little Sweden" because of that. Dalarna is known for the red horses (wooden, not real ones!), a lake that was created through the impact of a meteor millions of years ago, the highest waterfall in Sweden, an old copper mine, and some of the oldest living trees you can still see in the world.
What are some places you need to visit in Dalarna?
Dalarna is quite a big region and covers about as much area as Belgium, so you can imagine that there is quite a lot to see – and you wouldn't go and try to see Belgium in just one day, right? You won't be able to see everything Dalarna has to offer during your stay, so you might just want to try to get in as many of the highlights as possible. Some of the places and attractions you might want to put on your lists are the following:
Njupeskär Falls and ancient trees
These falls are located in the Fulufjället National Park, and with a vertical fall of 97 meters, this impressive waterfall is the highest waterfall in Sweden. It is very well worth a visit and if you like the outdoors, the Fulufjället National Park is also a great place to go on some lovely hikes. The park is also home to some of the oldest living trees in the world. Some of those spruces (which are actually Norway spruces) are said to be over 9,550 years old, and seeing them is an experience that is hard to put into words.
Falun's old copper mine
The old copper mine in Falun is a rather interesting place, especially if you are interested in where the famous red paint of Sweden comes from. The red paint is produced from the ochre pigments that can be found in this old copper mine. It is mixed with linseed oil, and the result is the well known red color. The copper mine is also on the UNESCO world heritage list. It is definitely a great experience for old and young to have a look at this copper mine and learn more about an aspect of Swedish life that is seen everywhere. Also interesting to know: in the past, around 70% of the world's copper was produced in just this single mine!
Lake Siljan
Lake Siljan is not only the largest lake in the region of Dalarna, it also is quite interesting because it has been created 360 million years ago when a meteor crashed into the ground. The lake is beautiful, and the area around it attracts quite a lot of visitors because of the beautiful landscape and the holiday opportunities.
Sälen
Sälen is the place to go to if you would like to go skiing. Be aware though that this ski resort is the most popular and largest ski area in the whole of Sweden, so you can imagine that there are always plenty of people around. Just speaking by numbers, the area is also Sweden's fourth biggest destinations for tourists.
Falun
Falun is not only home to the famous copper mine, but is quite a nice place to visit in its own right. It also is the capital of Dalarna and hence has quite a lot to offer on the cultural front. It is a great place for people who would like to learn more about Swedish designs as Sundborn, the former home of Carl Larsson, is easy to visit. He was a famous painter in Sweden, and his wife was just as creative in the world of interior design.
Dala Horses
The red Dala horses are one of the famous Swedish icons, and in Dalarna, you can visit some charming villages that have a long tradition of making those beautiful little horses (but of course there are also some bigger versions, e.g. statues). The smaller villages that make those horses are usually also villages in which you can observe quite a lot of traditional Swedish culture like people wearing folk dresses and folk dances. The midsummer festivals are always a good time to visit Dalarna if you would like to have the full-on Swedish experience.
Orsa Predator Park
For something totally different, you should visit the Orsa Predator Park in which you can see a variety of wild animals like Kamchatka bears, Persian leopards, Siberian tigers, wolves, eagle owls and many more. The park makes sure that the animals live in a natural environment, and you can take part in three different guided tours during your visit. It is a great way to learn more about Swedish (and some not so Swedish) wildlife.