0 Södermanland Diaspora around the world
Our in-person family gatherings
Ireland's President Higgins family message
Our TEDx talk about family gatherings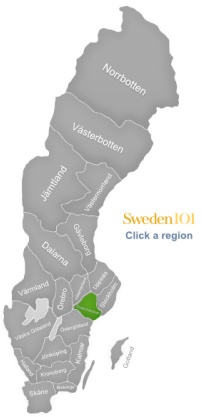 What does the name of the region mean?
Södermanland consists of three Swedish words that can be translated as Southern land of man. The Swedish often don't use the whole name but shorten it to Sörmland, so don't be confused if you hear two different versions. The name might also be a little confusing as Södermanland isn't exactly one of the most Southern regions in Sweden. The name was simply used by people who were distinguishing the region at the lake Mälaren to the regions North and West of the lake.
What is the region known for?
Södermanland is known to be the richest region in Sweden because there are some very wealthy cities within the region. It is not that much of a tourist place as most people are drawn to nearby Stockholm (which once was part of Sörmland until it became a more important place). Sörmland has a few things apart from industrial centers to offer though: one of the longest walkways in Sweden, and also some quite interesting historic places. A certain visitor drawing point definitely is that one of the towns is known because of "The Girl with the Dragon Tattoo".
What are some places you need to visit in Södermanland?
Sörmlandsleden
If you enjoy hiking, then the Sörmlandsleden is something you need to be aware of this. It's a hiking trail that covers 1,000 (yes, one thousand) kilometers of walking tracks. The whole route is divided into 100 different sections which differ in their individual length and difficulty (make sure you only choose tracks that suit your level of fitness and experience). The track also has several branches leading away from the main track, so you can also visit some other parts. If you have time and lots of energy, then this would be the ideal hiking holiday. The landscape of Sörmland might be quite flat, but it makes up for it with a different kind of beauty.
Flen
The world's most Northerly vineyard can be found in this town. When you are in Flen, you can also visit a very old market, called the Malmköping market. One thing that you might not be aware of if you do not speak Swedish nor listen to much Swedish music is that this town is often mentioned in Swedish songs. Maybe you will also feel compelled to write a song or poem about this charming place.
Nyköping
This is the capital of the region, and you will also find a tourist information office here which is very helpful if you would like to know more about the region and plan your journey. Nyköpinghus castle is an interesting place to have a look at. The castle was built in the 12th century, and houses an interesting exhibition about the history of Nyköping. Another castle that is within easy reach from Nyköping is Nynäs Castle (a 30 kilometers trip from the city).
Gnesta
Gnesta is mainly known to people because parts of the popular Swedish movie "The Girl with the Dragon Tattoo" were filmed in this location.
Eskilstuna
This city is a good city if you would like to spend some time on the shores of the lake while also exploring some historic sights. A famous place in Eskilstuna are the Rademacher Forges which date back to the 1650s. A nice fact about the place is that there are still craftsmen working there, which means that the historic place is still in use and not forgotten. The Parken Zoo might not be the biggest zoo, but while you are in Eskilstuna, you should have a look because this zoo is concerned with the protection of a variety of endangered species, and they are trying to help with keeping some of them from becoming extinct. Some of the animals there you might never get to see anywhere else.