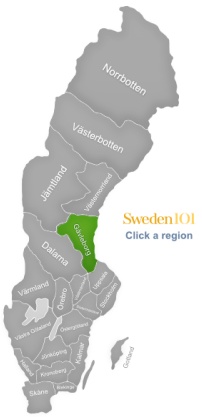 What does the name of the region mean?
Gävleborg can be translated as shores of the river.
What is the region's historical importance?
Gävleborg used to be important as a harbor city in the past, but this importance has somewhat lessened in recent times. Gävleborg still is important – don't get us wrong here – there are still around a thousands ships coming to the harbor every year, but historically speaking, the importance of Gävleborg as a center of trade was higher in the past.
Gävleborg, as a county, was officially established in 1762.
What is the region known for?
The region has one symbol that has become quite popular in recent times: the Gävle goat. This goat is made out of straw and is erected on the first advent each year. Unfortunately, there are always some people who think it's quite funny to set it on fire, so you might want to come early to see the goat in its original state. However, there are also many souvenirs with the goat these days, so you can even own a Gävle goat of your own.
Something else worth mentioning about the region Gävleborg is that it is the home of Sweden's only whiskey distillery (Mackmyra Whisky distillery). This distillery can be found in Valbo.
What are some places you need to visit in Gävleborg?
Gävle
Gävle, the capital of the region, is quite a green city with wide avenues and lots of trees and greenery. The reason behind this is not such a beautiful one though: Gävle, like many other places in Sweden, was mainly made of wooden houses in the past, and thus it was quite devastating when a fire roamed in the city. In one of the biggest fires in the history of Gävle, 8,000 out of 10,000 people lost their homes, and in addition many farms were destroyed. This led to the rise of stone and brick buildings, but also changed the way the layout of the city was planned. Big avenues were planned, and they are lined with trees, so that a fire would not be able to spread that quickly. Gävle hence is quite a good example of how people adjust their lives and plans to solve recurring problems.
Today, Gävle is a nice place to visit, and still an important port in Sweden. The proximity to the water also means that you can go on cruises to explore the region from a different angle. And if you would like to learn a bit more about various aspects of life in the city and the region, then you could visit the regional museum, or maybe also the prison museum for a different kind of experience and knowledge.
Hudiksvall
Hudiksvall is a small village, but you will receive a warm and friendly welcome there. In the past, the village was formed as a trading post, but it did not have such a happy past because of fires and losing its trade to other towns along the coast. The inhabitants were nevertheless always very cheerful, and that's one of the reasons to visit this place!
Ockelbo
Ockelbo is another small village in which you can experience the charm of rural Sweden. There are plenty of forests for lovely walks in the area, and you can visit an old mill or the rose gardens that have more species of roses than you have ever heard of (in the likely case that you are just a normal person without superior gardening knowledge).
Ljusdal
Ljusdal is a good base if you would like to explore the Hamra National Park. It pays off to get up very early, because in the mornings you can often see the mist lingering over the landscape, and it is a magical experience to see how it slowly lifts and disappears.